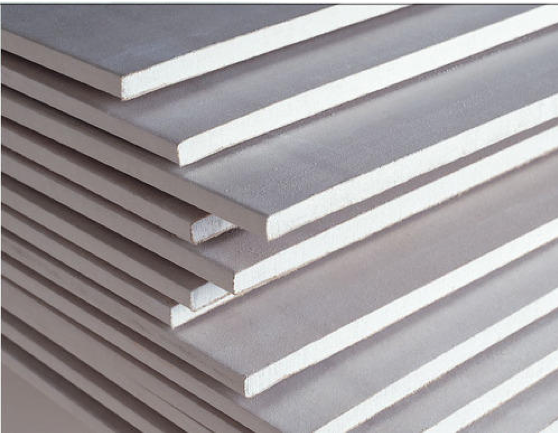 You may be familiar with gypsum board by its more common name – drywall. If you're in construction, you may refer to gypsum board using the terms wallboard or plasterboard.
WHAT IS GYPSUM BOARD?
Drywall, or gypsum paneling, its more technical product name, is a sheet material used in the construction of all walls and ceilings in both residential and commercial buildings. It provides a uniform, monochromatic surface, that is convenient and economic to install, as well as versatile to work with. Gypsum board panels, the material you may have recognized on the ceilings of commercial spaces, is also inside walls covering the steel or wood structures supporting upright buildings. But you may not have noticed it, as it is often wrapped with paper or fiberglass – the materials façade that you see.
Behind this façade, gypsum board panels serve a central purpose in all buildings: fire protection. There are a number of parts of building structures and organizations that require fire protection that the gypsum board is specially designed to provide. In addition to providing the surface layer for the ceiling and walls, gypsum board paneling is a useful and secure base for different tile materials, including ceramic and plastic. Gypsum board can also be used to encase support structures within walls, provide firewall protection and separation between multiple office spaces or occupancies in a building. In addition to fire protection, gypsum board paneling also provides residential and commercial cities with protection from various use-based and climatic conditions, from high traffic to moisture and hail resistance.
One of the most important features of the gypsum board is that its core is fire resistant and non-combustible. This makes it an invaluable building material, and the first line of protection to the structure of a home or facility against fire or heat-related dangers and hazards. Gypsum board comes from a chemical substance, Calcium Sulfate Dihydrate (CaSO4·2H2O), that is in-and-of-itself fire-resistant, and can be both naturally and synthetically produced. When an area is under heat stress, the gypsum board will not ignite. In fact, the core of the gypsum board will release water – notice the H2O in its chemical composition – and its surface releases steam. This is a slow-acting process that is key to giving residents of a home, or staff of a commercial or industrial building the necessary time to evacuate premises if there is an ongoing fire emergency. As gypsum board paneling essentially sheaths the internal structures of walls and ceilings, such as wood and steel, which can spark, crumble, ignite, from fire, so the building structure also has a greater chance of remaining intact, incurring less risk of injury from falling objects during evacuation.
An added bonus that makes gypsum board useful in building construction, is that it also provides soundproofing.
TYPES OF GYPSUM BOARD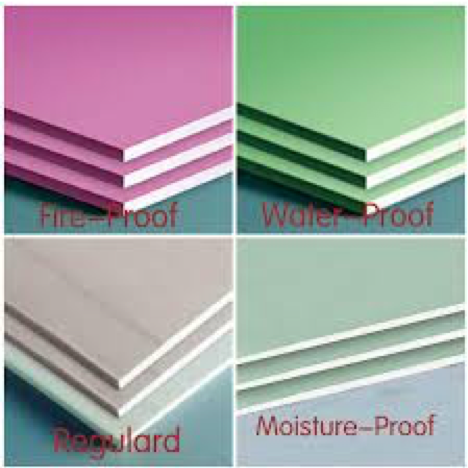 There are two main types of gypsum board, regular and type x. While regular gypsum board is fire-resistant, type x has added fire resistance, and both come in a variety of sizes with different features, suitable to various residential, commercial, and industrial needs and requirements. You can also get custom edging matching your gypsum-installation needs to the surrounding structure, including rounded, tapered, beveled, square, and tongue and groove edges.
Home Décor
A quarter-inch gypsum board is a perfect size for a number of household applications, such as DIY improvement projects. For starters, a gypsum board of this size is economical and is typically used as a cost-effective way to improve soundproofing in a home. Applied to walls or ceilings, a quarter-inch gypsum board is a convenient way to soundproof a music basement or entertainment system, so that multiple members of a household, doing different activities, can enjoy their home at the same time. 5/16-inch gypsum is a bit thicker, and also an affordable option. With a laminated double thickness, it is also a great choice for soundproofing applications.
Commercial and Industrial
Gypsum board that is 1/2 inch to 3/4 quarters of an inch in thickness and above, is suitable for construction application across larger spaces that undergo more usage and wear and tear than households, such as commercial and industrial facilities. For heavy-duty residential work, 1/2 sized gypsum board is still suitable, for work such as building a single layer wall, the ceiling, or double layer systems that are needed for optimized soundproofing as well as fire protection. At 5/8, gypsum boards of this thickness have greater rigidity, which means better fire protection from the core, as well as sturdier construction which can withstand different kinds of impact that can take place on a commercial industrial site, such as bearing weight, or contact with a colliding object.
Finally, at ¾ to 1-inch thickness, this range is best suited for commercial and industrial purposes. The gypsum board of this measurement is suitable for structures and applications on large, heavy-duty sites, such as warehouses, factories, and production lines. Gypsum panels can be used throughout such facilities to optimize safety, including all-round as well as separate-occupancy firewall protection, and in stairways and elevators.
Other Applications
In addition to sizing, there are other kinds of gypsum boards catering to specialized needs for homeowners, offices, or commercial and industrial facilities.
Extra fire-resistant or type x gypsum board is pink in color so you can easily recognize it at a supplier's showroom. Boards such as these adhere to health and safety standards and are ideal for meeting compliance regulations.
A moisture-resistant gypsum board is green in color and used on interior walls, and can maintain specified moisture levels, and therefore useful in areas such as washrooms and kitchens.
An abuse-resistant gypsum board is ideal for high-traffic areas and passages and are designed to withstand abrasion and indentation
Exterior gypsum soffit board is specifically for outdoor usage relating to roofing and is used to protect structures that are partially exposed to the environment, such as eves and canopies.
GYPSUM BOARD AND ACCESSORIES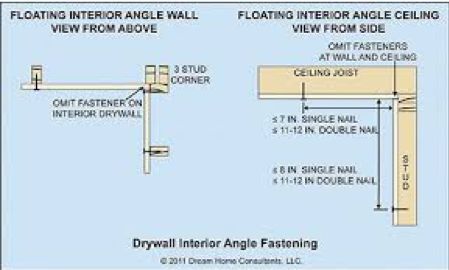 Useful accessories for gypsum board installation include technical guides, that good suppliers provide so that you have a reliable resource for whatever project you're working on – whether it's a personal DIY or a commercial remodeling. With the right guide, you can ensure that your gypsum board installation is done right the first time around, and provides all occupants with the reliable and long-lasting safety protection they need.
So, once you have your technical guide in hand, what else do you need to get your installation started? There are a set of tools and accessories you'll need at the ready to complete your installation.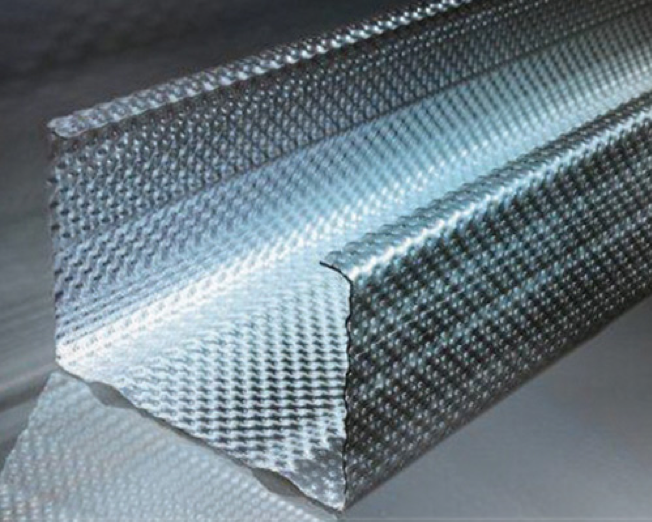 A strong metal frame forms the backbone of your gypsum board installation. When choosing a metal frame, you'll want to go with the brand from a reputable manufacturer. Talk to them about metal that is cold-rolled and work-hardened and adheres to the gypsum board for optimal strength in false-ceiling construction. You'll also want to ask general questions about how much load the steel carries and request for certification showing that the metal you're purchasing has been through control and quality checks to ensure that it is viable for gypsum board installation. Additionally, the steel should be packaged in rolled coils, which show consistent thickness, for accurate installation.
Then there are a number of metal and related accessories you'll need. Here is a useful checklist to take to your supplier, and make sure you have everything you need to properly install your gypsum board:
Connecting clips, for connecting ceiling sections to tube sections
Raw plugs, a fastener for holding the ceiling
Soffit cleats, to maintain the suspension of the gypsum panel
Screws, for attaching the metal frame to the gypsum board
Angle, edge, and Shadowline stopping beads, to conceal and protect exposed pieces of gypsum, so it smoothly align with the main structure
Access panels, so that when maintenance is needed, repairmen can easily access electric cabling and related items
GYPSUM BOARD ACCESSORIES' MANUFACTURERS AND SUPPLIERS
When choosing a gypsum board and accessories provider, there are several factors you want to consider so that you're sure you're getting a quality product from a reliable manufacturer or supplier. The accessories are the pieces that keep your gypsum board strong, and intact, and should not be compromised.
Experience and expertise: Do the suppliers you're considering have a history and reputation in the industry that homeowners and commercial operators attest to? Is your technical staff demonstrating practical know-how about installation procedures? When a manufacturer knows their product – inside out – that's when you know you're getting the right guidance for your installation needs.
Customer service: What is the range of expertise of staff? Are your customer service personnel knowledgeably able to answer your questions to your satisfaction? As you make your purchases make sure you're getting the right suggestions so that your installation is correct, strong, safe, and long-lasting.
The number of completed projects: Finding out the number of projects a manufacturer or supplier has supported, using gypsum board and accessories, is a great way to see if they are a recognized name in the industry. The higher the number of successfully completed projects, the more you know your purchases are coming from a reputable manufacturer.
Price vs quality: This is an important consideration in regards to gypsum board and accessories, but 'most expensive' doesn't always equal quality, and initially choosing lower cost items could become expensive in the long run due to the repeated need for maintenance and re-maintenance. While it is important to weigh costs, prioritize needs such as quality and convenience for a smooth, reliable, and long-lasting gypsum board installation.
Whether you're looking for the best gypsum board offerings or experts in gypsum board and accessories, get in touch with us to learn more