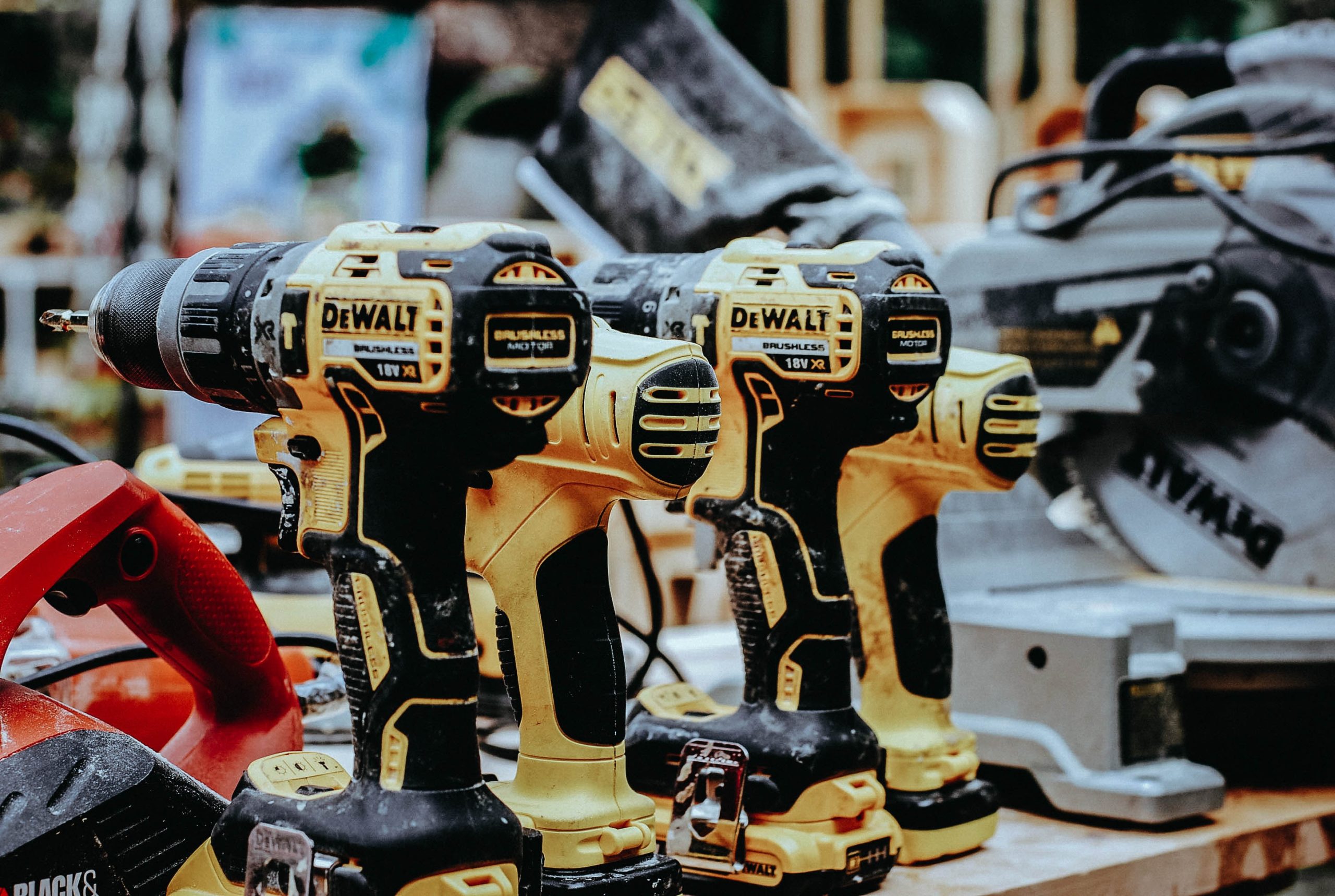 There are many kinds of power tools – almost too many to list! And with the different brands, multiple options, and varieties, including all their accessories and attachments, there's a lot to consider. Read on if you want an overview of the wide and nuanced world of power tools.
Electronic-powered tools have replaced manual hammers, saws, and screwdrivers and have replaced these with automated versions that are much easier to use, delivering a finished product that is assembled with greater accuracy. Some important automatic power tool features to keep in mind include: 
Cordless: These power tools offer the advantage of mobility and maneuverability because your tool is not confined to the range of the wire and power outlet in a wall. With cordless power tools, you can increase mobility by easily carrying them to the worksite and materials. This means both flexibility and productivity are increased, which in turn improves not only the quality of the final product but also the efficiency of the work process.
Long-lasting batteries: Automatic power tools with powerful batteries are best. Lithium batteries, for example, are high energy, easy to power, and take little time to recharge, so you can meet your construction timelines. 
When put together, such dual innovations mean that a construction job can be completed with convenience, energy efficiency, and increased productivity. 
Read on to learn about common power tools, their applications, and benefits, and how to select the right ones for your construction and masonry projects.
WHICH POWER TOOLS ARE BEST FOR ME?
To accomplish a masonry task or construction project, no matter how big or small, as a commercial enterprise or a contractor, you need the right power tools to complete a job that meets quality standards, ensures your reputation in the industry, and satisfies customer demands.
It's a good idea to consider purchasing a complete power toolkit so that you have a set of versatile tools and accessories on-hand that can be used to complete just about any masonry or construction task. A good power toolkit usually includes a drill with variable speeds that can be used for different jobs; a circular saw with multiple blades that can cut both wood and metal; and power sources.  Kits such as these are convenient, with space to organize and store your power tools safely. 
One power toolkit option you might want to consider is the Milwaukee M 18, which comes with a drill, impact driver, and two saws – all of which are cordless. This power toolkit's items are all lightweight, making it suitable for extended projects, while the machines are also able to withstand job site wear and tear. With all of these benefits, this tool kit is a great choice, but it's important to keep in mind that reviewers have noticed it does not pack sufficient power.
Alternatively, check out the DeWalt Max power toolkit, which includes five 20-volt machines. In addition, this power toolkit includes helpful accessories that make job completion easier, such as a work light, and belt hook. If you're a contractor, this means you don't have to search for these items separately. 
Different power toolkits come with different combinations of machines and accessories. It's a good idea to do some research on product reviews to find out which power toolkit will best serve your needs, whether you're running a large construction business, or you're a contractor with clients with diverse needs. Different brands are known for different advantages and drawbacks, and you need to make sure that the power toolkit you choose has the right equipment, power, flexibility, and versatility to help get your projects done. You also want to ensure that the tools you use to manufacture a product, meet quality standards, customer needs, and boost your productivity efficiently. 
TYPES OF POWER TOOLS
Below is a list of fundamental power tools, every construction company or contractor needs on their job site, including descriptions of how they can be used, and their unique advantages, and solutions for some drawbacks: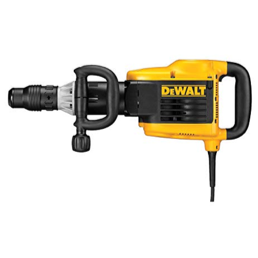 Demolition hammers: Demolition hammers are power tools that are used to breakdown large, bulky objects, such as large walls. Features which help to increase grip are important for breaking down objects swiftly and accurately. 
Consider the DeWalt D25901 K demolition hammer, with a powerful motor and impact energy, to complete the breakdown stages of building renovation projects. The active vibration control feature ensures users are able to remain in control of their power tools and operate it safely. Versatile power tools like this tend to have several options on the impact control dial for different applications. Its in-built dust seals, prevent debris from jobs from entering the tool, increasing its smooth operation and long-term shelf life. One con to this power tool is it is quite bulky and heavy. One solution, DeWalt has provided anticipating this drawback is a 360-degree rotating handle for complete maneuverability. 
Drills and screwdrivers: Drills are one of the most versatile power tools, and important to store onsite. Drills come in corded and cordless varieties, and one of their benefits is, they are available in many different technical versions, suited for different purposes. A good drill passes three tests: is it durable, does the battery support it during a long and challenging job, and can bits be changed easily.
The latest Bosch cordless drill, part of the 2019 18V Power Tool Drill Kit is moderately priced and lightweight for flexible usage. With 400-1300 RPM, this power tool is versatile but does not have the range of other reputable brands.
The DeWalt DCD771C2 Cordless Drill Driver Kit, with a higher price tag, makes up for some of the drawbacks of the Bosch drill. With its 300-watt motor-powered drill, this allows for diverse use, meaning this power tool is single-handedly able to complete just about all drilling tasks. A con to this power tool, however, is that the battery needs to be recharged over long jobs, so this factor is important to keep in mind with respect to your output timelines.  
Dust vacuums: The disadvantage of any kind of construction or masonry work is that it produces debris, usually in the form of tiny particle dust. For this reason, it's important to have the right power tools, such as a dust vacuum, handy for regular clean-up. If you work with a lot of wood materials or drywall, for example, the regular use of a dust vacuum means your workspace surfaces will remain clear, and your breathing environment clean.
When choosing a dust vacuum, you'll want to keep three important factors in mind: quality of filtration system, cord reach, and, receptacle capacity. The DeWalt DCV581H wet/dry vacuum, is an exceptional choice of power tool, as it comes in a cordless option, providing users with complete reach. It also has a crevice tool for hard-to-reach spots. While this machine cleans both wet and dry materials, a drawback to this power tool is that is really meant for quick clean-up jobs around your workstation, and not ideal for cleaning a large construction site.
For more extensive clean-up jobs you may want to consider the top-rated Dustless Wet Dry Vacuum D1603. With a 3-stage filtration system, this power tool ensures all particles are cleaned, and there is no blow-off from the machine itself. It can hold up to 40 pounds of material and captures particles as small as three microns in size.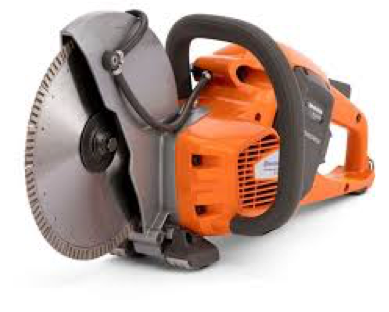 Saws: There are different saw power tools for different purposes, including the circular, saber, and reciprocal. With a circular saw, you can switch blades to cut different materials, as well as attach them to your worktable. Saber and reciprocal saws are designed for cutting materials finely and when you want to produce specific shapes. 
The DeWalt DCS391B Circular Saw is a top choice for contractors when selecting power tools. At 20 volts and a 6.5-inch blade, it packs the right combination of power and speed to complete just about any job with ease and accuracy. 
Another option you may want to consider is the Makita XSR01 PT. Like the DeWalt DCS391B, it is also cordless, but known for its ability to cut sheet and dimensional lumber which typically require power from direct connection to an electrical outlet
Sanders: An automated sander is an important power tool for putting the finishing touches on a project. Manual sanding is a far more time-consuming process, and today's automated options can produce as detail-oriented results. 
The DeWalt Orbital Quarter-sheet Sander comes is a top choice for construction companies and contractors, as its circular motion doesn't leave any unwanted marks on masonry pieces. At the same time its 2.4-amp motor, lightweight, tactile grip ensure a quality final product